Wafangdian Zhengda metallurgical rolling mill bearing Co., Ltd. was established in September 1994. Now the company covers an area of 21208 square meters, with a building area of 15000 square meters. It is located in the northern suburb of Wafangdian Bearing Factory, the birthplace of Chinese bearings in Wafangdian City, Liaoning Province. There are Shenyang Dalian Expressway, medium long railway, Dalian seaport and international airport. The land, sea and air transportation is very convenient.
Wafangdian Zhengda metallurgical rolling mill bearing Co., Ltd. is a professional manufacturer of rolling mill bearings in China. It is a provincial-level quality and reputation assurance unit and the product is qualified by international standards. It is a member unit of the equipment accessories center of China Metallurgical Enterprise Management Association, with advanced technology, complete testing means, and quality control in the whole production process. In 2008, it obtained the ISO9001:2000 certificate of SGS company of Switzerland; In April 2010, SGS passed the iso14004:2004 environmental management system certification and obtained the environmental management system certification.
The bearing rings are made of high quality and low oxygen content vacuum degassed bearing steel; the equipment is sophisticated and the heat treatment adopts the multi-purpose furnace production line, which is at the advanced level in China; the product parts are strengthened to improve the surface quality and fatigue strength, which is welcomed by the majority of customers. Our company has a certain share of the rolling mill bearings used by Shanghai Baosteel, Wuhan steel works, Baotou Steel works, Laiwu steel works, Chengde Steel works, Shougang strip steel works, Kungang, Guangzhou Angang, Beiman steel works, Fushun Steel works, Guanggang, guangdai and other units.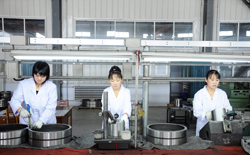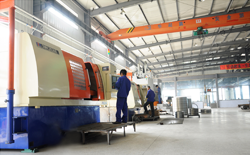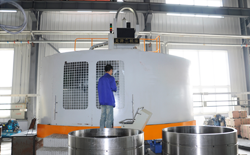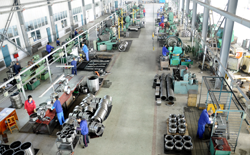 Over the years, the company has obtained 41 patent certificates, including 7 invention patents and 34 utility model patents, which have been awarded as Dalian patent demonstration enterprise. The company has more than 100 excellent equipment. The CNC grinder equipment purchased by the company ensures the accuracy of the products. The heat treatment workshop adopts the Austria multipurpose furnace production line, and the whole process computer automatic control. The advanced equipment achieves the world first-class level. The multi-purpose furnace can be bright quenching, gas carburizing and carbonitriding, preventing the workpiece from oxidation and decarbonization during the hot working process. The brand products produced by the company are positioned as the high-end rolling mill bearing market, and the marketing strategy based on the domestic market and focusing on the foreign market and domestic alternative imported bearing market is implemented. In recent years, the bearing of high-speed wire rod mill has been specially developed. The products are widely used in high-speed wire rod, bar, plate, profile and other rolling equipment and rubber and plastic machine equipment in metallurgical industry. The product quality conforms to national standards, international standards and special requirements of customers. The registered trademark of the product is "wzzz". The developed rolling mill bearing occupies a certain advantage in the industry and enjoys a high reputation. Among them, 330661c British four row tapered roller bearing and sealed four row tapered roller bearing have been successfully used in 1700 cold rolling mill of WISCO, replacing the imported ones; 331168a domestic bearing for Xiamen Zhongda bar has been successfully used; idtb0034-2ls with sealed double row tapered roller bearing designed for 2050 vertical hot rolling mill of Baosteel has been successfully used in trial, t-e-48680d / 48620 / 4862 0deiv4 bearing replaced SKF Bearing in Shanghai Baosteel Group and successfully replaced it. It successfully developed sealed double row tapered roller bearing for 2050 tropical vertical roll mill of a steel plant in Shanghai and won the gold medal of international invention pioneer in Nuremberg, Germany. It has been successfully used in many well-known steel mills to replace imported bearings. The research and development of four row cylindrical roller bearing with seal, senjimir bearing, vibrating screen bearing, continuous casting and rolling mill bearing, and the research and development of stamping cage of spherical roller bearing not only prolong the service life of bearing, but also reduce the production cost for users. "Wzzz" products are not only popular in China, but also exported to Austria, Germany, India, Taiwan and other countries and regions, deeply trusted by users at home and abroad.